Wouldn't You Like To Be Trained By Some Of The Top Guitar Teachers In The World While You Sit Comfortably In Your Home? Join Us For A Day Of Guitar Fun!
LIVE Guitar Breakthrough Summit
IMPORTANT: This event is LIVE ONLY. No recordings will be provided.
Join us for the FREE live video Guitar Breakthorugh Summit on Saturday, January 22, 2022, from 10:00 am to 5:00 pm, Central Standard Time (Chicago time).
(But you have to book your place below! Scroll down!)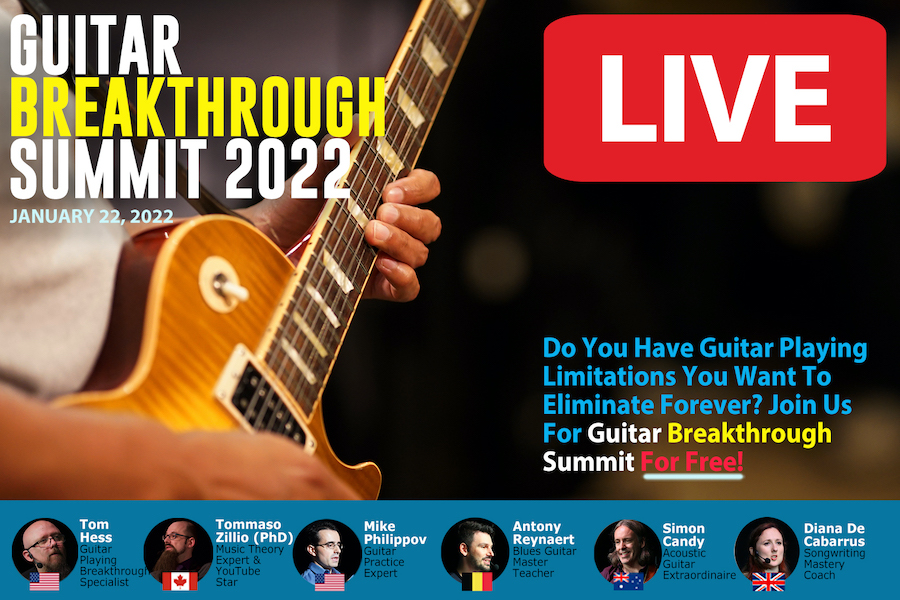 We will share with you our "secrets": the routines that we use in our own practice sessions, the ideas that help us compose music creatively at will, the juicy tricks that make music sound special.
The Guitar Breakthough Summit has a strictly limited number of spaces available and will only be streamed live. No recording will be provided for this LIVE training
Who is this for?:

Guitarists living anywhere in the world, or all experience levels (whether you are just getting started or already have a lot of experience and want to get better, this is for you)

What you need to bring to the class:

Your brains
Your guitar
Paper and pen to take notes (have more than one pen on hand…)

Technical requirements:
During this LIVE video coaching event, you will discover:
Tom Hess: The Ultimate Breakthrough Guitar Technique
Tommaso Zillio (PhD) - Guitar Theory Education Expert: Rhythm Palettes: The Master Way To Rhythm Guitar Creativity
Mike Philippov - Guitar Practice Expert: How To Easily Find The Right Exercises For Anything You Want To Practice
Antony Reynaert - Blues Guitar Master Teacher: The Essential Blues Guitar Masterclass: Why Arpeggios Are The Missing Link If You Want To Play Great-Sounding Blues Solos
Simon Candy - Acoustic Guitar Extraordinaire: 3 Hacks For Playing Advanced Chord Progressions On Guitar That Make You Sound Pro
Diana De Cabarrus - Songwriting Mastery Coach: How To Write Better Lyrics - Secrets Great Songwriters Use To Craft Extremely Expressive Lyrics
Reserve your spot on this live video coaching class below. NOTE: There are limited spots available, so do it right now:
By submitting your info, you agree to send it to Guitar Mastery Solutions, Inc. who will process and use it according to their
privacy policy.