Learn How To Create Music That Sounds 'Exactly' How You Want It To With This Free Songwriting Ebook
---
Do you want to know how to make good music that creatively expresses your unique thoughts and ideas? It is a fact for all songwriters that no matter how experienced you are at making music, you will come to a point where you are unsure about how to create music that sounds exactly as you intended it to. If you want to consistently make good music that leaves you feeling 100% satisfied each time you sit down to write a song, you will need to learn how to solve the problems that are most likely to keep you from fully expressing yourself in your songwriting.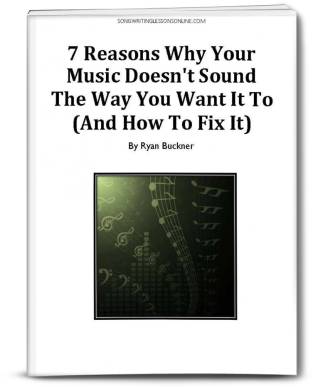 After you download and study this free eBook about how to create better music by solving common songwriting problems, you will:
Understand how to make good music that sounds exactly how you intend it to sound.
Get new ideas to help you create music using a variety of effective songwriting techniques.
Keep your music from sounding "too simple" while also learning how to make music that is complex, yet expressive.
Learn effective methods for creating music with more interesting melodies, chords and lyrics.
Become a better songwriter by learning the solutions to the 7 most common problems that cause your music to "not sound right".
Get instant free access to your FREE songwriting eBook on how to create better music by solving common songwriting problems by typing your name and e-mail address into the box below and clicking 'Give Me Access Now'.
By submitting your info, you agree to send it to Guitar Mastery Solutions, Inc. who will process and use it according to their
privacy policy.