About Us - Your Songwriting Instructors
Diana de Cabarrus - Instructor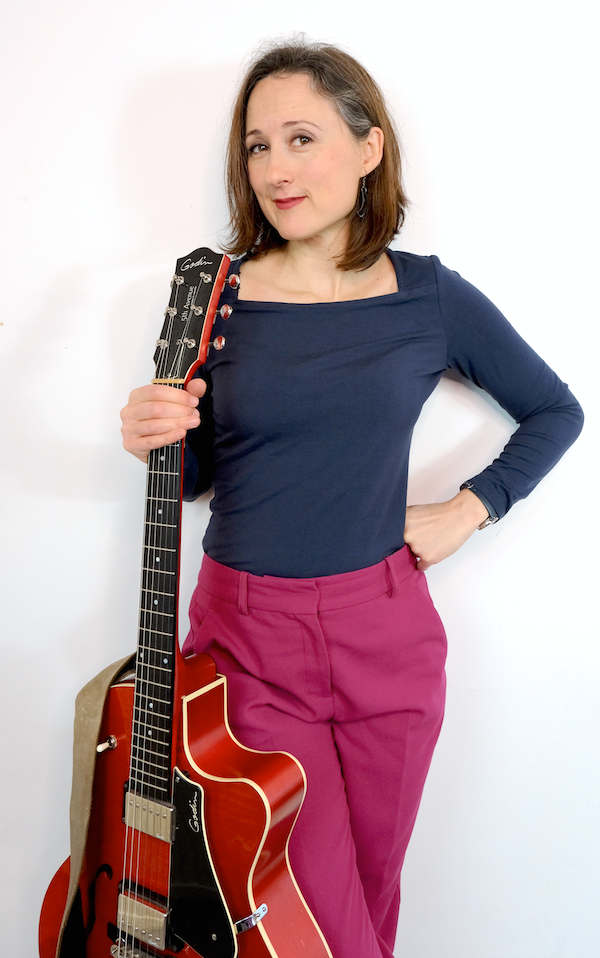 Diana is a songwriter/composer and music coach based in the UK. She has released five albums and EPs of original music and has contributed writing credits, vocal, guitar, Bodhran and cello parts to albums recorded by a variety of UK based artist. She has toured and performed in the UK, Europe and the US with her own material and performing with other artists.
She has been devising and refining her unique teaching methods since 2005 teaching in the UK, Europe and the US in two of her own schools for guitar and songwriting - Key To Music - and as a guest instructor in multiple different music organisations. Many of her former students have released albums and EPs of their own.
Her original material as Candythief first emerged in association with Fife's Fence records (King Creosote, James Yorkston, The Pictish Trail) in 2006 and her style has attracted comparisons to prog; French synth pop, folk pop, and the more stylistically wide-ranging 60's folk innovators.
Live, pithy lyrics and carefully drawn melodies are delivered with vibrant energy, unfiltered conversation, and an appreciation of the opportunity to share music with others.
Every Candythief release from interim EPS to double A sides to full length albums has scored airplay on BBC Radio 1, BBC Radio 2, BBC 6 Music, BBC Scotland and a host of internet stations and podcasts. Tracks from previous releases have been ROTW on Shaun Keaveny's show, MP Free of the day on Lauren Laverne's show, and award-shortlisted film soundtracks.
BBC Scotland, Roddy Hart (Time in the Tin, 2016)
BBC6 music, BBC Introducing mixtape, (The Starting Gun, 2014)
BBC Scotland, Iain Anderson, (Moving Parts, Partisan, 2011)
BBC 6 music, Record of the week, Sean Keavney (Coffin song,Partisan 2011)
BBC 6 Music, Chris Hawkins, (Song for David, Partisan 2011)
BBC 6 music Lauren Laverne: MP3 of the day (Song for David, Partisan, 2011)
BBC 6 Music, Nemone (Modern Times, Partisan, 2011)
BBC Radio 1, Rob da Bank, (Number Five, Technicolour Wilderness, 2009)
BBC Radio 2, Radcliffe & Maconie (Number Five, Technicolour Wilderness,2009)
BBC Scotland, Vic Galloway, Satellite, 2006 (like/unlike), Number Five, 2009, Time in the Tin, 2014).
BBC 6 Music, Tom Robinson, Live Session (Satellite, from like/unlike, 2007 Fence records)
Tommaso Zillio, PhD - Editor
Tommaso Zillio is a recording artist, composer, session guitarist, guitar trainer and instructional author.
His expertise as a teacher is on training musicians on how to use music theory to create their own songwriting style and express themselves. His main focus is on helping students to think both inside and outside the box and to eliminate anything that can restrict their free musical expression.
Tommaso is a charter member of the Elite Guitar Teachers Inner Circle and earned the esteemed "Elite Master Guitar Teacher" title given to less than 10 guitar teachers world wide to date.
Tommaso is also the founder and owner of the Edmonton Guitar Music School where, together with his team of teachers, he trains beginner to advanced guitar players to reach their musical goals.
Tommaso has written and published many music articles, books, and instructional videos on different songwriting and music theory topics. He is of the opinion that music theory can be made accessible to anyone who is willing to learn, and that a deep knowledge of theory helps immensely the creativity and inventiveness of songwriters.
In addition to working with other artists as a studio musician and orchestral arranger, Tommaso collaborates regularly with local theatre companies for musical theatre productions.
Tommaso holds a PhD in Theoretical Physics from the International School of Advanced Studies (SISSA/ISAS) in Trieste, Italy, and to date he has published a dozen peer-reviewed research articles on topics ranging from Physics to Ecology.
Tommaso #1 favorite composer is J.S. Bach, followed closely by F. Chopin.
Tommaso's other main influences and favorite musicians are: L. van Beethoven, J.P. Rameau, A. Vivaldi, Frank Zappa, Dream Theater, all Ozzy's guitarists, Glen Tipton, Tom Hess, Andy Timmons, Eric Johnson, Yngwie J. Malmsteen, Pink Floyd, Astor Piazzolla, Mike Oldfield, and many others too numerous to mention here.
Ryan Buckner - Contributor
Ryan Buckner is a professional guitar player, music composer, guitar instructor and recording artist. He lives his passion for music by giving songwriting instruction to others and helping them learn how to write songs, improve their songwriting skills and fully express themselves musically.
Ryan began giving guitar and songwriting instruction to musicians around the world in 2007. He has released several eBooks on the topic of guitar technique mastery and written instructional columns for various music websites and e-zines about guitar practice, songwriting and music theory. During 2007, he recorded and released his own music as a part of the international guitar player compilation "Chronicles: City Of Sound".
As a songwriter, Ryan has been writing since 2000. He began by writing solo piano pieces before expanding his writing to include all types of instruments for many different types of music. His main songwriting influences are bands from the Progressive Metal genre, but he also takes great influence from a wide variety of other genres including EDM, Latin and Romantic era piano music. Ryan supports the idea that improving self-expression is essential for writing great music. With this in mind, he has invested many years into developing innovative strategies to help songwriters of all skill levels enhance their songwriting skills and become highly expressive musicians.