Have You Ever Felt Stuck And Frustrated When Trying To Write A Song? Or Maybe You Just Don't Know Where To Begin, How To Continue Or How To Finish Your Song? I'll Show You How To Overcome Writer's Block Once And For All So That You'll Know What To Do To Break Through It & Become Inspired With Fresh Songwriting Ideas.
I know how you feel when you sit down to write a new song but get stuck, feel frustrated, sometimes angry, or just feel helpless. You might start to doubt if you are any good at songwriting…
Hey, I've been there countless times in the past. I know exactly how you feel and why you feel that way. Every songwriter has felt this way (even the very best songwriters and composers)...
But what I've found is, there are very specific solutions to solve this once and for all. In other words, you no longer need to accept feeling frustrated, lost and stuck.
It's all going to change for you right now. I've complied every trick, secret and technique about how to finally break through writer's block for good in the "Overcoming Writer's Block For Musicians & Songwriters Course".
In this songwriting course, you will:
Get unstuck from your songwriting writer's block so that you can move forward now to create more and better songs.
Learn how to use many creative songwriting methods and become a better songwriter FAST so you can finally write songs that sound exactly the way you want them to.
Gain the skills you need to write truly great songs without a deep knowledge of how music works or an understanding of advanced music theory concepts.
Get TONS of new ideas to transform all of your thoughts, ideas and emotions into music that expresses your own unique songwriting style.
Discover the little-known secrets to improvising great song ideas. This will give you the ability to quickly write highly creative musical ideas every time you sit down to play your instrument.
Drastically reduce the amount of time it takes you to write new songs and stop feeling frustrated because you aren't sure what to write next or how to write it.
Begin using an effective songwriting practice schedule that will track your strengths and weaknesses as a songwriter so you always know what to practice to get better and take your songwriting skills to the next level.
Learn how to create a powerful blue print for each song you write that enables you to map out your ideas in advance and accurately get the emotions from inside yourself into the songs you are creating.
In addition, you will get this free bonus: 50 Unique Songwriting Ideas To Spark Your Creativity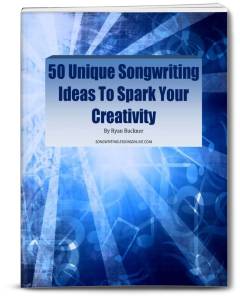 "This guide is completely different than anything I've ever seen. It explores not just the different processes of writing songs but also it goes in depth about why so many people struggle with writer's block and outlines very effective and easy to implement solutions to each one of these problems. This product is something I wish I had when I first got started writing songs."
Mike Philippov - Professional guitar player and songwriter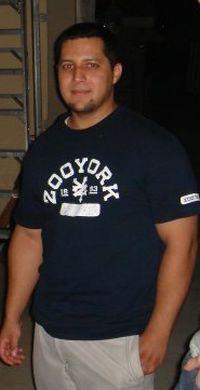 "Before I bought this songwriting audio course I knew very little about writing songs and had never even tried to make an entire piece of music. After the first day of listening to it and using the techniques Ryan talks about I was quickly able to start writing and made my first song. I highly recommend this for anyone else who doesn't have much experience with songwriting and wants to write music fast."
Patrick Limon - Oklahoma City, USA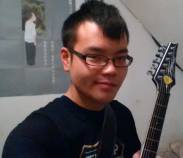 "This course really helped me come up with tons of new ideas for songs. After listening to it, I have already written several songs and gained a lot of confidence in my songwriting ability. Anyone who is looking to become a better songwriter should definitely check out this course!"
Geoffrey Liew - Toronto, Canada
To get started now, click on the button below.